[ult_tab_element][single_tab title="JB" tab_id="5531520f-4f5f-4″][/single_tab][single_tab title="JB" tab_id="655e468a-c61d-9″]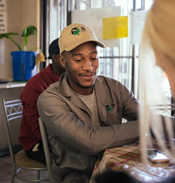 JB PEST CONTROL
Director Name: Jabulani Matsinye
Age: 27
Facebook Page: www.facebook.com/jbpestcontrolptyltd/
7527 Jumba Street
Daveyton
Business Description
Established in 2015, JB Pest Control is committed to solving pest problems. Our focus is providing the most effective pest control solutions to homes and business spaces.
We have the expertise, manpower, and resources to serve all clients, from single-family homes to large retail businesses. Our solutions are the best and the eco-friendliest, and our pest control specialists have experience in solving all sorts of pest problems. We are a Full-Service Pest Management Company.
OUR SERVICES
We offer once off, MONTHLY, BI-MONTHLY, QUARTERLY and ANNUAL Pest Control services, tailored to specific needs.
We treat for the following:
Rats / Mice, Cockroaches, Ants, Fleas, Bedbugs, Moths, Mosquitoes, Bees, Termites, Etc. And all those moistures related insects that invade in business and houses.
At JB PEST CONTROL Health and Safety is behind everything we do. As a small example, our service minimizes Pest risks and associated diseases, helps to keep building and electrical wiring safe and protects people and buildings from bird droppings. These are just a few of the benefits.
We at JB PEST CONTROL are highly experienced and our professionally trained pest management specialists have the technical knowledge and expertise to solve any pest needs for all sizes of commercial and/or industrial facilities, as well as a customized pest management program for an organization needs.
BUSINESS TARGET
JB PEST CONTROL primarily target markets are Food Industries, Furniture Industries, Entertainment and Hospitality industries, Factories, Offices Buildings, Residential & Commercial properties, Retail, Ware House, Schools; Government Sector, Agriculture, Consumer Products Environment, Service Industry, etc.
Directors Corner
While growing up in the township of Daveyton, I noticed a lack of opportunity for youth employment. In 2015 my focus shifted from seeking employment to identifying gaps in the market and business opportunities. I realised that what was lacking, was an initiative to fill these gaps in the market and break the cycle of unemployment. With the pests invading our community, I saw this as an opportunity to fill a gap in the market and I took it. From then on, my passion for business has continued to grow.
I received my first contract in February 2017 to service a local Primary School. To set myself apart from my competitors in the market, I made sure I was easily accessible to my clients in my targeted areas and I focused heavily on creating strong relationships with them.
The business has been running for 2 years now and services over 40 households, 4 companies' and 8 restaurants on a monthly basis. With a high level of service and advertising primarily through word of mouth, social media and door-to-door marketing I have seen steady growth in my business.
We need to understand that pests are dependent on three primary things to survive. In order to do my work effectively I need to think like the pest in my quest to control them, their next meal, drink and very importantly their shelter or nest. After Identifying these sources, I start building a proper and effective integrated pest management program.
Tree or shrub branches touching your walls or roof acts as a mechanism for ants or rodents to access the building. To avoid insecticide or rodenticide treatments and that can be fixed remove certain trees or shrubs altogether that are closer to your house.
Water flowing against building will cause decay and possibly flood a basement or crawl space. The soil or mulch landscaped areas must be graded away from the house, so water does not accumulate against it.
Gutters plugged with debris. Standing water in gutters is an excellent mosquito breeding habitat. Gutters must be cleaned regularly. In fact, even if there aren't that many leaf-dropping trees around the property, it is surprising how much debris can accumulate in gutters and downspouts.
Firewood, items stored against the house. Why this a problem: Firewood or other items stored against the house create harbourage areas for a myriad of insects. Carpenter ants love to be in and around any stored firewood and often will readily move into the wall that the firewood is stacked against. One need to make sure all items (especially stacked wood) are stored away from the house. If space is an issue, at least make sure these items are pulled out a foot or more, so that the foundation can be clearly seen.
By this research, we can advise clients and it also serves as our commitment in offering an informed and full-service satisfaction to them.
Currently the business employs 3 staff on a full-time basis and 2 employees on a part-time basis for specific projects.
The skills development and support from MSV Wealth Management has been instrumental in the development and growth of my business. Looking ahead, I plan to get proper office space and a car for the company's operation. I trust that MSV Wealth Management (Pty) Ltd will continue assisting me in the quest of getting proper systems in place for my company and access to market to expose my company.
[/single_tab][/ult_tab_element]